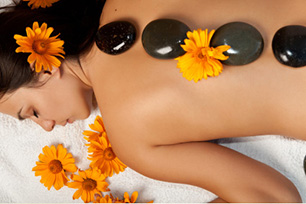 Hot stone massage is one of the most distinctive types of massage ever invented. The massage uses different types of heated stones and places it on the different body parts while they are focusing on performing the massage at one body part.
The hot stone placed on the body is the main concern of the massage and when the warm stones are placed on the body helps to warm up the muscles too, giving the therapist a better access to your muscles and they can get you more relaxed treatment by deeply massaging the body.
Like every massage therapies, hot stone massage too focuses on relieving the stress and tension from the body and the mind while reducing the body stiffness and increasing the circulation and metabolism rate in the body. The massage session provides deepest relaxation therapy of the muscles while placing the heat or warmed stone at the key areas of the body. The therapist therefore performs some of the different techniques of the massage to put the body at more ease apart from placing the stones at the different parts of your body.